Nema zore bez sumraka Niti puta bez povratka – Braća i Sestre
U trenucima kad smo ispred zida, mislimo o svemu što je bilo ili je moglo biti ljepše. Đe smo pogriješili? Kome smo zasmetali sa ljubavlju? Ima li neko ko će zid pred koji smo izvedeni ofarbati u novu lijepu boju?
Braćo i sestre imamo li nekog drugog sem nas…
Osmjeh nek veseli, kad god se budemo sreli!
Rodoljubi – bitange jedne, okotu paśi ,
da vam sve bude po mjeri,
da ste mi vazda zdravi i veseli!
Dear Europe, dear World – Our fight is your fight!
PAMTIĆEMO TE MATIJA! POČIVAJ U MIRU…
(Youtube: Džep sa tajnama)
BRAĆA I SESTRE – NEMA ZORE BEZ SVITANJA (2021)
BROTHERS AND SISTERS – THERE IS NO DAWN WITHOUT DUSK (2021)
IZVOĐAČI – BRAĆA I SESTRE: RAJO SIMONOVIĆ, HARIS BABAJIĆ, ROMAN ĐURANOVIĆ, DEJAN ŠKULETIĆ, MILENA JANKOVIĆ, BUCKO MIJOVIĆ, MILAN SJEKLOĆA, EVA PAPOVIĆ, LAZAR VUKČEVIĆ, CAKI SIMONOVIĆ, DRAGAN MARTINOVIĆ…ELMA, ANTONETA, FAKO, EMIR, BOKI, JELENA, MLADEN, NINA, STEFAN, ANE, DEJO, ZEKO…reprezentativci Crne Gore, crnogorski pjesnici, književnici, slikari, kulturni radnici…najveći hor naroda Crne Gore – 65.000 braće i sestara sa Ivanovih korita koji vole svoju zemlju!
Muzika i tekst: MOMČILO ZEKOVIĆ ZEKO
Aranžman, miks, master: DEJAN BOŽOVIĆ
Video materijal snimili: Nole Abramović, Jugoslav Belada, Aleksa Popović, Matija Vukotić.
Hvala svim učesnicima skupova koji svojim emocijama ukrasiste ovaj video spot.
Hvala za pomoć u realizaciji audio zapisa ove pjesme – Saksofonisti Radu Vujačiću.
Ireni Radunović – hvala za ideje, tekst i prevod titla. Hvala Tea. Hvala Komsa i Jason.
Produkcija: Džep sa tajnama 2021 (Like/Share/Subscribe/Hit the Bell)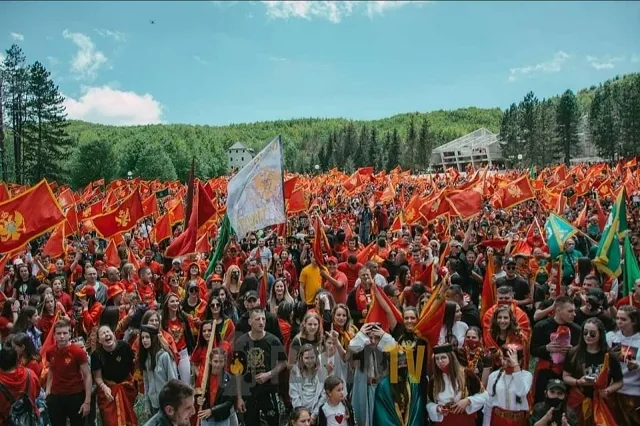 Volim zemlju moju – Volim Crnu Goru
NEMA ZORE BEZ SUMRAKA
Kad se jutra probude
pa sve dok me ne bude,
ja ću tako do zadnjeg dana
voljet najmanju sa Balkana.
I po noći pjesmama
s mojom braćom i sestrama
pjevat uvijek sve balkanske
ali volim naše najviše.
(2× ali naše pjevam najjače)
REFREN:
NEMA ZORE BEZ SUMRAKA
NITI PUTA BEZ POVRATKA
ĐE GOD ODEM TEBE ODNOSIM
CRNOM GOROM SE PONOSIM.
SVETI PETRE JAVI SE
DOKLE OVAKO ZNA LI SE ?
CRNA GORA PITA ĐE LI SI?
ČUDA VASILIJE DONESI !
PA UZ BOGA / ALAHA
BUDIMO SKUPA DOBROG KORAKA
Ako vam je izmakao ovaj detalj: filmska traka je označena sa "Volim zemlju moju!!!"

pogledajte cijeli snimak 👇👇👇https://t.co/p7ShBWbf9I

👆👆👆 pic.twitter.com/WJPjbrsvAx

— Portal Senat 🇲🇪🇪🇺 (@SenatME) October 17, 2021