English available languages
Retirement should be a time to kick back and forget the stress of the daily grind. While some people plan their post-work days down to the smallest detail, others may need a little help deciding where to spend their golden years. International Living magazine recently released its latest Annual Global Retirement Index, which lists the top 10 destinations for would-be retirees who want to get away from it all. The survey looks at a number of factors affecting quality of life in each place including climate, local lifestyle, cost of living, healthcare, visa and residency requirements and how easy it is for newcomers to fit in once they arrive.
Old favourites like Mexico and Costa Rica remain popular due to their accessibility, warm climate, easy-to-navigate bureaucracies and established expatriate communities, but the 2019 list also includes newcomers, such as Thailand.
Here is the list of top 10 countries best for retirement:
10. Spain 
Spain's Mediterranean coast draws millions of tourists in search of sun, sandy beaches and a relaxed pace of life. These same attractions, along with many established and largely English-speaking expatriate communities, an excellent healthcare system, high living standards and low living costs compared to some other European countries, make Spain a popular choice for retirees.
9. Thailand 
Making its first appearance in the top 10, Thailand draws many retirees to its sunny beaches, bustling cities and cooler highland villages. Expatriate communities, with English as the common language, are springing up in many tourist hot-spots and further afield.
With a tropical climate Thailand can be hot and humid, but it comes with a very low cost of living and a wealth of culture and cuisine, plus easy access to other places in Asia.
8. Peru 
Peru has climbed two places from 10th last year, replacing Nicaragua which has slipped from the top 10. As well as its famed cultural attractions, such as Inca settlements, Peru has a very low cost of living, a growing culinary scene and a diverse landscape of beaches, mountains and jungles.
Newcomers will need to get to grips with Spanish as English isn't widely spoken, but there are a number of expat enclaves for those who have difficulty learning languages.
7. Portugal
Retaining 7th position in this year's index, Portugal has a warm climate, friendly people and a relaxed pace of life. English is widely spoken in metropolitan areas and in coastal regions popular with expatriate residents, but some Portuguese is needed in more remote regions.
Portugal ranked fourth in the Global Peace Index 2018. Living here is inexpensive compared to other European nations and relatively stress free.
6. Colombia
Colombia is home to a growing number of retirees who have settled in its hot and tropical coastal areas and lush mountain regions. Simple visa requirements make settling here an easy option and residents can enjoy an inexpensive lifestyle.
The World Health Organization ranks Colombia's healthcare system at 22nd in the world, far above the US system. However Colombia suffered more than 50 years of conflict until a peace deal was reached between the government and FARC rebels in 2016, and the security situation can change very quickly in parts of the country.
5. Malaysia
Malaysia's year-round hot and humid climate attracts people seeking a warm spot in which to retire. The landscape includes rainforest and tropical beaches with hundreds of small islands to explore.
Living costs are low, food is abundant and English is spoken in all but the most remote regions. The country offers both public healthcare and relatively low-cost private healthcare.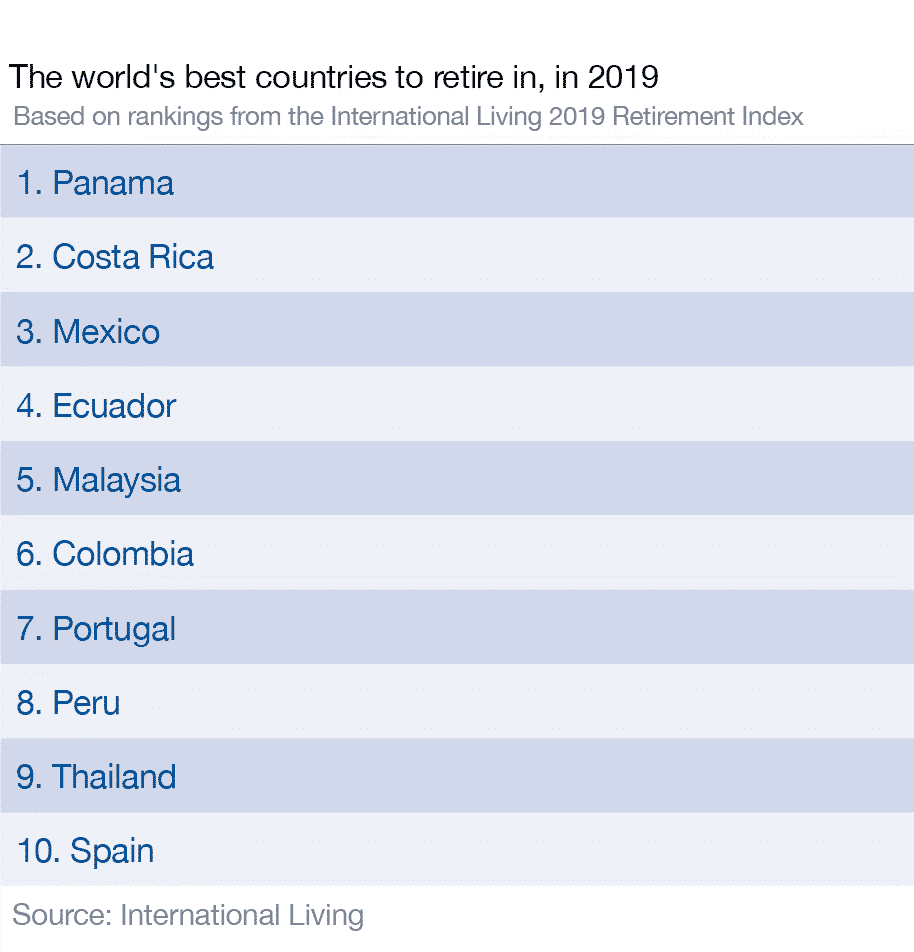 4. Ecuador 
A number of expatriate communities can be found in the villages, towns and cities of Ecuador. The cost of living is low and the climate ranges from tropical on the coast and in the rainforest, to cool in the mountains and valleys.
The retirement index shows that newcomers to Ecuador can enjoy affordable healthcare and benefit from exemptions on certain taxes.
3. Mexico
Slipping one spot from second place in last year's index, Mexico remains a highly popular destination for retirees from the US and other parts of the globe. A mix of mountains, prairies, deserts and coastal regions gives newcomers a wide choice of locations with a high quality of life and vibrant local culture.
Mexico provides excellent healthcare facilities and a low cost of living compared to many other countries, according to the index.
2. Costa Rica
This Central American nation topped the index last year but slipped to second in 2019, despite scoring full marks in the healthy lifestyle category. Costa Rica is renowned for its outdoor activities which include diving and hiking.
Low-cost real estate, a range of micro-climates, along with welcoming locals and expatriate residents keep this destination high on the list of preferred retirement destinations.
1. Panama
Panama is the world's best place to retire in 2019, improving on third place in last year's index. Warm weather and an even warmer welcome from locals and expats, coupled with a low tax burden and low cost of living make it a haven for retirees.
The country's world-class Pensionado Program entitles eligible retirees to numerous benefits like discounts and medical expenses. Retirees can choose between beach communities, mountain towns or bustling Panama City.

English available languages