Crnogorski

English available languages
Cancelled Flights list – Montenegro Airlines 2020 – Covid19
A statement form Montenegro Airlines
Montenegrin national airline company Montenegro Airlines, intensely monitors the situation regarding the Corona virus and implements all recommendations of the relevant health institutions, the Institute of Public Health, the Ministry of Health of Montenegro, WHO, as well as the International Air Transport Association – IATA.
The company, also, takes all necessary precautions and abides by all the procedures foreseen in such situations, so the passengers have no reason to be worried. Safety of our passengers and flight crew is our primary concern, as always.
We appeal to all passengers that travel in areas that are particularly affected by Corona virus, to abide by health recommendations for passengers in international traffic, (www.ijzcg.me/me/savjeti/savjeti-za-putnike-u-medunarodnom-saobracaju), and to notify the employee of our company or employee at the airport they are located, of any possible health changes.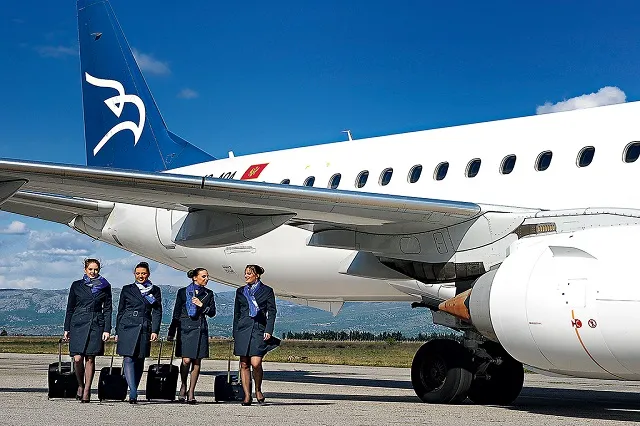 We inform the passengers of Montenegro Airlines, who already hold a ticket for any destination in the airline's network  and need to cancel their trip due to Coronavirus situation, that they will be able to change their dates of travel and/or destination without additional payment*.
This measure applies to travel planned in the period from 06th March, 2020 to 31th March, 2020, for the tickets issued until 06th March, 2020.
New journey will have to be carried out until 24th October, 2020.
*One change of travel dates/ destination per ticket is permitted without additional payment.
Tickets issued until March 6 (including that date) for the travel period March 6 – April 30, 2020. Change travel days and / or destinations can be made at no extra charge or tariff difference. The new trip must be completed by December 31, 2020. Tickets are issued from March 7 to March 31 (including this date), for the travel period from March 7 to April 30. 2020. The new trip must be completed by December 31, 2020. To change the travel date without placement, the original tariff is not available on the newly selected data, and a different tariff is necessary. If you want to change destinations so that you can pay the difference in price, the original tariff is not available at the newly selected dates / destinations.
Please note that only one change per ticket is allowed at no extra charge for date / destination correction for both cases, and the original tickets must be highlighted at least 24 hours before the flight.

Code share flights

If you have our ticket for any of our codes summer, partner share is a valid procedure, provided that the original flights cancel 48h before the flight.
The list of canceled flights Montenegro Airlines 2020
| | | | |
| --- | --- | --- | --- |
| Date | Flight number | Origin | Destination |
| 01 Mar 2020 | YM990 | Podgorica | Rome |
| 01 Mar 2020 | YM991 | Rome | Podgorica |
| 04 Mar 2020 | YM180 | Podgorica | Ljubljana |
| 04 Mar 2020 | YM181 | Ljubljana | Podgorica |
| 06 Mar 2020 | YM150 | Podgorica | Zurich |
| 06 Mar 2020 | YM151 | Zurich | Podgorica |
| 07 Mar 2020 | YM200 | Tivat | Beograd |
| 07 Mar 2020 | YM201 | Beograd | Tivat |
| 08 Mar 2020 | YM990 | Podgorica | Rome |
| 08 Mar 2020 | YM991 | Rome | Podgorica |
| 09 Mar 2020 | YM200 | Tivat | Beograd |
| 09 Mar 2020 | YM201 | Beograd | Tivat |
| 09 Mar 2020 | YM500 | Podgorica | Vienna |
| 09 Mar 2020 | YM501 | Vienna | Podgorica |
| 10 Mar 2020 | YM990 | Podgorica | Rome |
| 10 Mar 2020 | YM991 | Rome | Podgorica |
| 11 Mar 2020 | YM180 | Podgorica | Ljubljana |
| 11 Mar 2020 | YM181 | Ljubljana | Podgorica |
| 12 Mar 2020 | YM200 | Tivat | Beograd |
| 12 Mar 2020 | YM201 | Beograd | Tivat |
| 13 Mar 2020 | YM990 | Podgorica | Rome |
| 13 Mar 2020 | YM991 | Rome | Podgorica |
| 14 Mar 2020 | YM200 | Tivat | Beograd |
| 14 Mar 2020 | YM201 | Beograd | Tivat |
| 14 Mar 2020 | YM500 | Podgorica | Vienna |
| 14 Mar 2020 | YM501 | Vienna | Podgorica |
| 15 Mar 2020 | YM990 | Podgorica | Rome |
| 15 Mar 2020 | YM991 | Rome | Podgorica |
| 15 Mar 2020 | YM610 | Tivat | Moscow |
| 15 Mar 2020 | YM611 | Moscow | Tivat |
| 16 Mar 2020 | YM180 | Podgorica | Ljubljana |
| 16 Mar 2020 | YM181 | Ljubljana | Podgorica |
| 16 Mar 2020 | YM202 | Tivat | Beograd |
| 16 Mar 2020 | YM203 | Beograd | Tivat |
| 17 Mar 2020 | YM180 | Podgorica | Ljubljana |
| 17 Mar 2020 | YM181 | Ljubljana | Podgorica |
| 17 Mar 2020 | YM990 | Podgorica | Rome |
| 17 Mar 2020 | YM991 | Rome | Podgorica |
| 17 Mar 2020 | YM234 | Podgorica | Paris |
| 17 Mar 2020 | YM235 | Paris | Podgorica |
| 18 Mar 2020 | YM500 | Podgorica | Vienna |
| 18 Mar 2020 | YM501 | Vienna | Podgorica |
| 18 Mar 2020 | YM610 | Tivat | Moscow |
| 18 Mar 2020 | YM611 | Moscow | Tivat |
| 19 Mar 2020 | YM180 | Podgorica | Ljubljana |
| 19 Mar 2020 | YM181 | Ljubljana | Podgorica |
| 20 Mar 2020 | YM150 | Podgorica | Zurich |
| 20 Mar 2020 | YM151 | Zurich | Podgorica |
| 20 Mar 2020 | YM990 | Podgorica | Rome |
| 20 Mar 2020 | YM991 | Rome | Podgorica |
| 21 Mar 2020 | YM500 | Podgorica | Vienna |
| 21 Mar 2020 | YM501 | Vienna | Podgorica |
| 22 Mar 2020 | YM990 | Podgorica | Rome |
| 22 Mar 2020 | YM991 | Rome | Podgorica |
| 24 Mar 2020 | YM180 | Podgorica | Ljubljana |
| 24 Mar 2020 | YM181 | Ljubljana | Podgorica |
| 24 Mar 2020 | YM990 | Podgorica | Rome |
| 24 Mar 2020 | YM991 | Rome | Podgorica |
| 25 Mar 2020 | YM610 | Tivat | Moscow |
| 25 Mar 2020 | YM611 | Moscow | Tivat |
| 27 Mar 2020 | YM150 | Podgorica | Zurich |
| 27 Mar 2020 | YM151 | Zurich | Podgorica |
| 27 Mar 2020 | YM990 | Podgorica | Rome |
| 27 Mar 2020 | YM991 | Rome | Podgorica |
| 28 Mar 2020 | YM500 | Podgorica | Vienna |
| 28 Mar 2020 | YM501 | Vienna | Podgorica |
| 29 Mar 2020 | YM990 | Podgorica | Rome |
| 29 Mar 2020 | YM991 | Rome | Podgorica |
| 29 Mar 2020 | YM200 | Tivat | Beograd |
| 29 Mar 2020 | YM201 | Beograd | Tivat |
| 31 Mar 2020 | YM990 | Podgorica | Rome |
| 31 Mar 2020 | YM991 | Rome | Podgorica |
| | | | |
| --- | --- | --- | --- |
| Date | Flight number | Origin | Destination |
| 03 Apr 2020 | YM990 | Podgorica | Rome |
| 03 Apr 2020 | YM991 | Rome | Podgorica |
| 05 Apr 2020 | YM990 | Podgorica | Rome |
| 05 Apr 2020 | YM991 | Rome | Podgorica |
| 07 Apr 2020 | YM990 | Podgorica | Rome |
| 07 Apr 2020 | YM991 | Rome | Podgorica |
| 10 Apr 2020 | YM990 | Podgorica | Rome |
| 10 Apr 2020 | YM991 | Rome | Podgorica |
| 12 Apr 2020 | YM990 | Podgorica | Rome |
| 12 Apr 2020 | YM991 | Rome | Podgorica |
| 14 Apr 2020 | YM990 | Podgorica | Rome |
| 14 Apr 2020 | YM991 | Rome | Podgorica |
| 17 Apr 2020 | YM990 | Podgorica | Rome |
| 17 Apr 2020 | YM991 | Rome | Podgorica |
| 19 Apr 2020 | YM990 | Podgorica | Rome |
| 19 Apr 2020 | YM991 | Rome | Podgorica |
| 21 Apr 2020 | YM990 | Podgorica | Rome |
| 21 Apr 2020 | YM991 | Rome | Podgorica |
| 24 Apr 2020 | YM990 | Podgorica | Rome |
| 24 Apr 2020 | YM991 | Rome | Podgorica |
| 26 Apr 2020 | YM990 | Podgorica | Rome |
| 26 Apr 2020 | YM991 | Rome | Podgorica |
| 28 Apr 2020 | YM990 | Podgorica | Rome |
| 28 Apr 2020 | YM991 | Rome | Podgorica |

Crnogorski

English available languages