Crnogorski

English available languages
Corona Montenegro relief – How to Donate?
19?
Corona Montenegro relief – How to Donate and help Montenegro fight CoVID-19?
The National Coordination Body for the Infectious Diseases of Montenegro welcomed the noble intentions and invited all entities that show a high degree of social responsibility to donate
A week ago, the Montenegrin National Coronavirus Pandemic Preparedness and Response Plan was presented to ambassadors accredited in Montenegro as a complete document covering Montenegro's estimated quarterly needs of € 59.2 million in ten key categories: emergency response to the many urgent solutions to socio-economic challenges. As a solution to combat CoVID-19, the Ministry of Public Administration has launched the official website # CoronaInfoCG.me . There is also a dedicated donation page.
See how in just a few simple steps you can help fight a pandemic:
First step – enter website https://www.coronainfocg.me/me/donacije .
Enter your name, surname, email address and the ammount in EUR.
If you want to be anonymous, check  ☑️ "Želim da ostanem anoniman/anonimna".
Click proceed – Nastavi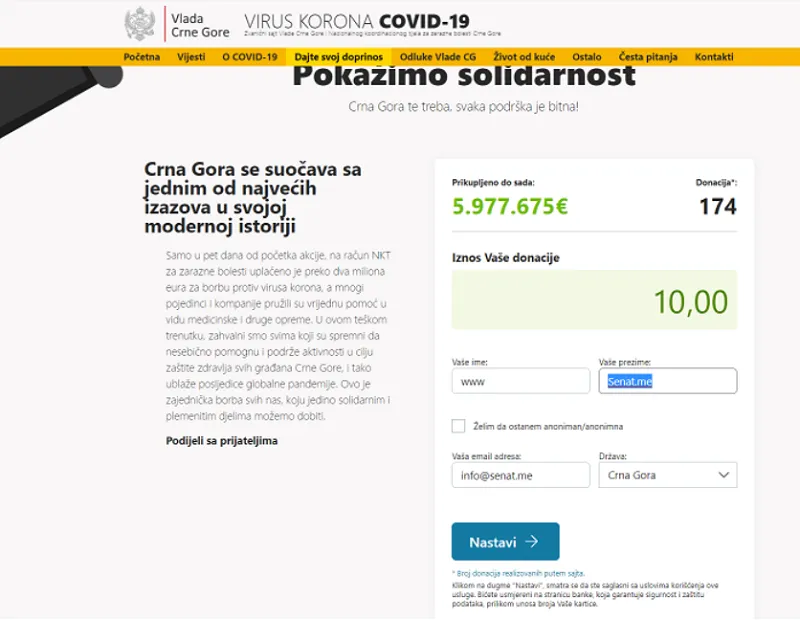 You may have a CAPTCHA task to prove you're not a robot. So, here we were fireman. 😉 👨‍🚒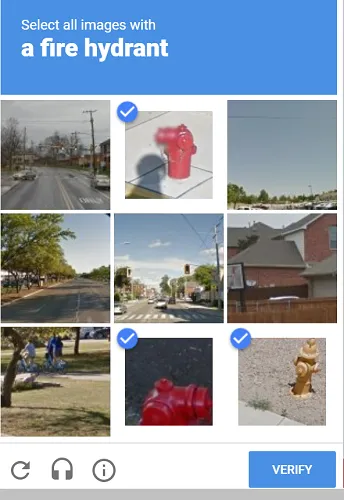 In the next step, you will be redirected to website ckbnetbank
Enter the 16 digit number of your credit card (MasterCard, VISA or American Express)

The CVV code is a three-digit number located on the back of the card

Expiration Date – Month and Year

Your name (as in the card)

Residential address and City
Confirm – POTVRDI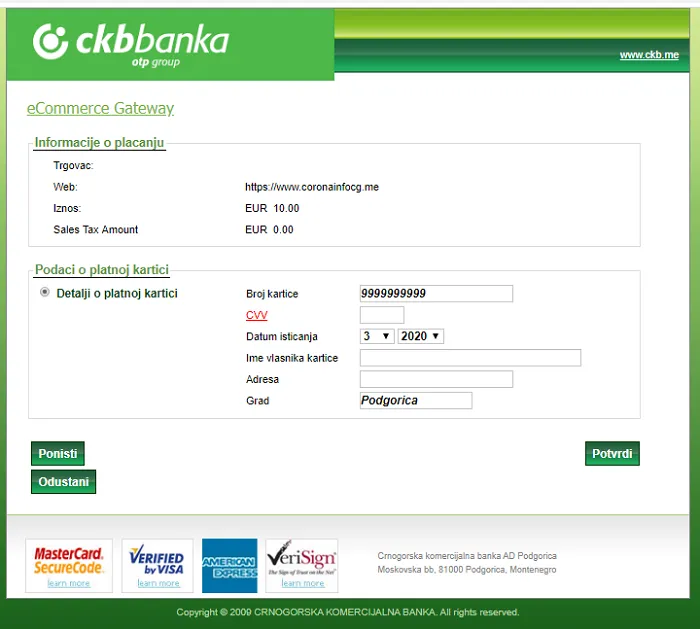 Once again click POTVRDI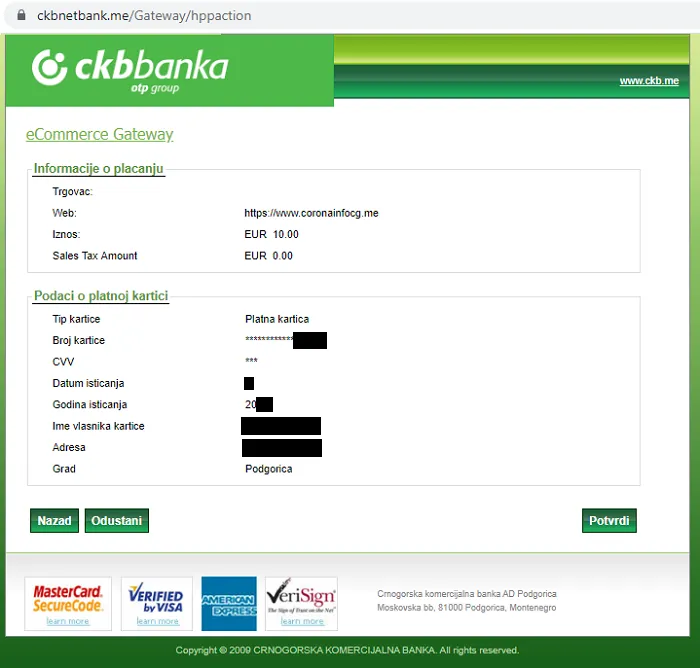 In the next step, you will be redirected to your bank's website asking you to enter a security code to verify the transaction. Check your mobile phone.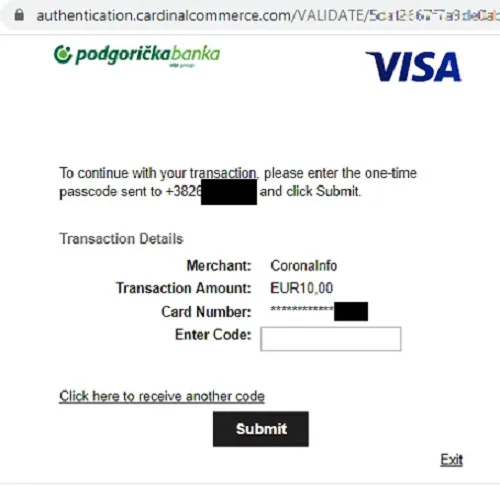 As you see, everything lasts less than a couple of minutes!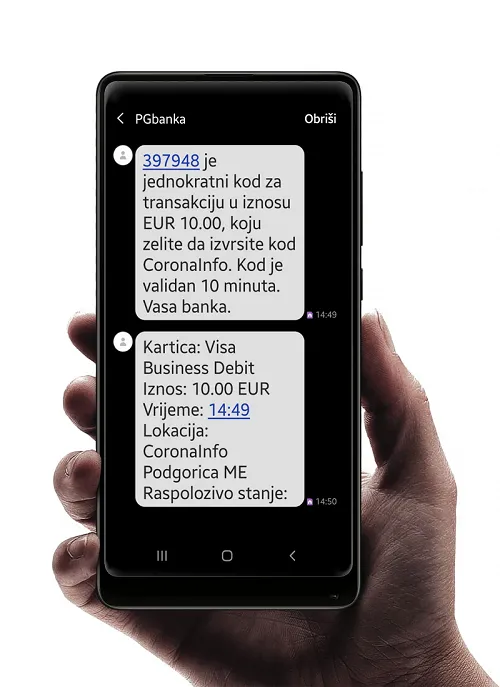 Once you have received the code online, enter it and press SUBMIT.
Donation successfully done!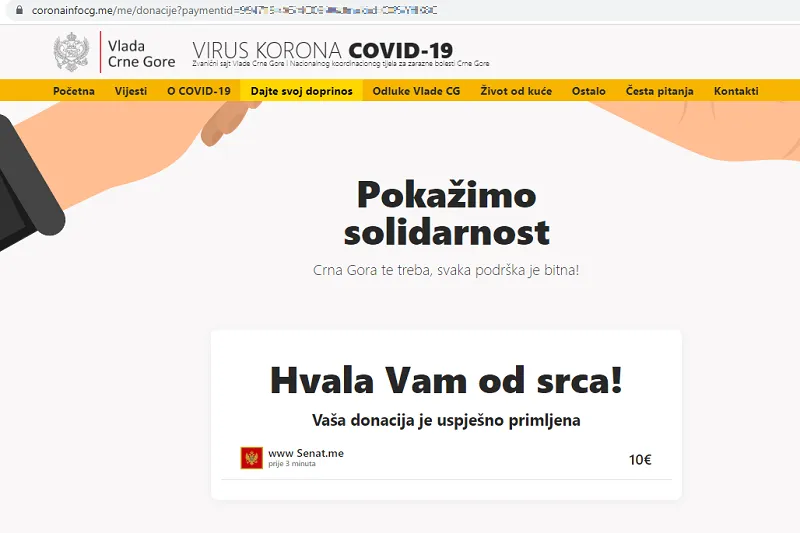 Your donation will be recorded on the website.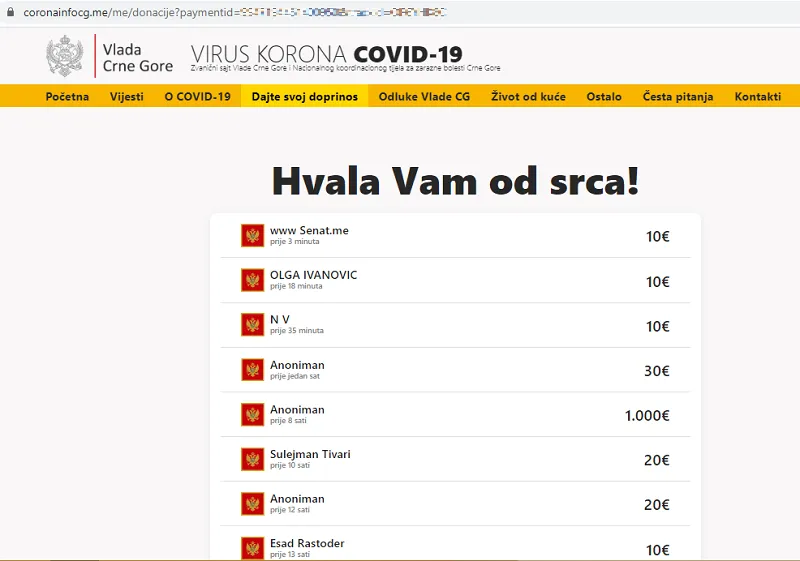 That is why we once again invite all visitors to our portal, according to your capabilities, to support medical system, healthcare workers and our nation's struggle to get back on our feet as soon as possible.
🙂 Shall we start:

Crnogorski

English available languages