English available languages
Education is key to economic growth. And tertiary education in particular, is at the heart of the innovation that we see around us. New discoveries such as MP3 and GPS technology would never have happened were it not for PhD research.
Countries are investing in their higher education systems, and more people than ever before are completing doctoral degrees. But which country has the most doctoral scholars?
The US beats the rest hands down
According to an OECD report, the US has at least twice as many PhD graduates as Germany, its nearest rival. In 2014, 67,449 people graduated with a PhD in the US, compared with 28,147 in Germany. Next in line is the United Kingdom, which just pips India into third place with 25,020 PhD graduates. India had 24,300. Although fifth on the list, Japan only has a quarter of the PhD graduates that the US has, with 16,039. In sixth and seventh place, France and South Korea have 13,729 and 12,931 respectively. Spain and Italy, in eighth and ninth, have a similar number, 10,889 and 10,678 respectively.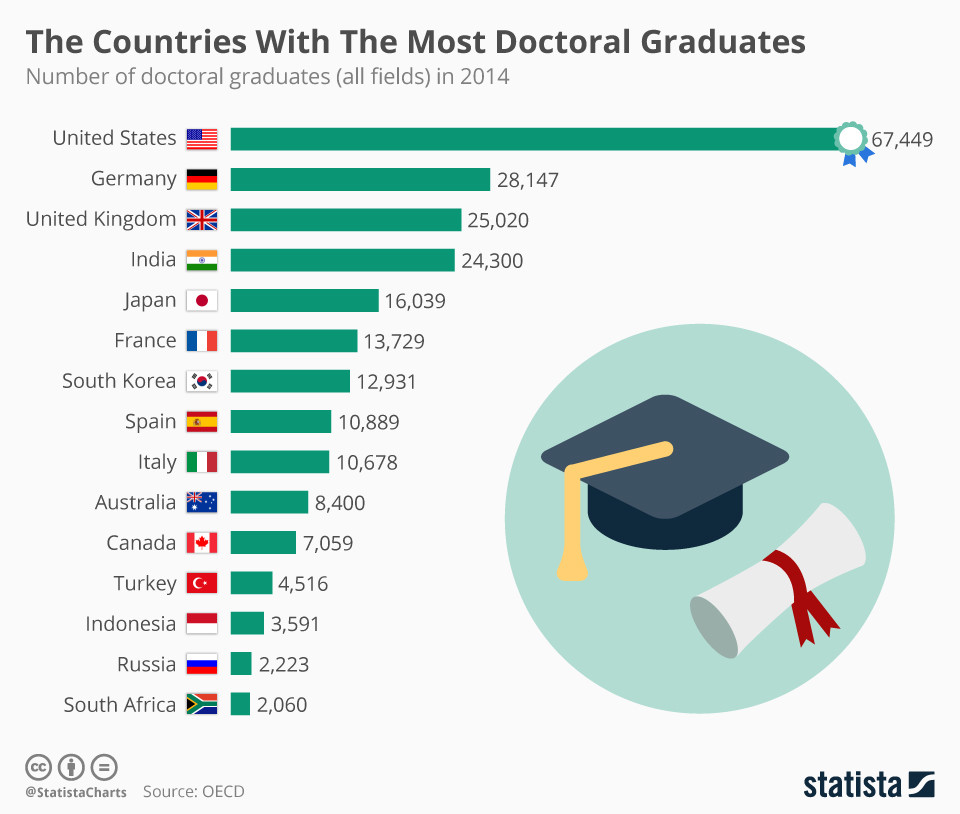 Australia is in 10th place with 8,400. It's worth bearing in mind that if we looked at the numbers per head of the population, the top of table might look rather different.
There are more new doctorates worldwide
OECD figures also show that the number of doctoral graduates has increased worldwide in the last two decades. The majority of graduates are from OECD countries.
Large emerging economies have expanded their higher education training capacities, says the report, as shown by India's high position with 24,300 doctoral graduates.
Certain scientific fields are more popular among PhD scholars. About 40% of new doctorates awarded in the OECD area are in science, technology, engineering and mathematics (STEM) and this percentage increases to 58% of all new graduates if doctorates in health are included. Doctoral programmes are particularly oriented towards natural sciences and engineering in France (59%) Canada (55%) and China (55%), according to the report.
Among other trends noted in the report were the increasing digitalization and internationalization of research, ushering in an era of a global knowledge economy.

English available languages