Crnogorski

English available languages
D
uring the second day of his official visit to Egypt, Minister of Foreign Affairs
Srđan Darmanović
 met with Secretary-General of the Arab League 
Ahmed Aboul Gheit
, Head of the Committee of Foreign Affairs of the Egyptian Parliament 
Karim Darwish
, and Vice President of the Federation of Egyptian Chambers of Commerce 
Mohamed el Masry
.
Minister Darmanović and the Secretary-General of the Arab League discussed the
security challenges
in the
Middle East
region and the efforts that the Arab League member states are facing in this regard. Montenegro's contribution in the framework of
NATO
missions to the Middle East region was welcomed.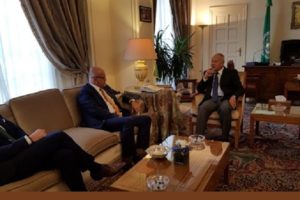 "We are grateful to Montenegro for the positions it takes when it comes to opportunities in our region, as well as for continued support within multilateral frameworks for the peaceful settlement of disputes in this region", Gheit said during the meeting held in Cairo.
The meeting with Head of the Committee of Foreign Affairs of the
Egyptian
Parliament Karim Darwish stressed the readiness to strengthen parliamentary cooperation, which could be further encouraged by the creation of a friendship group in the Egyptian Parliament, given that such a group has already been formed in the
Parliament of Montenegro
.
Both sides expressed interest in strengthening bilateral and economic cooperation in the fields of tourism and infrastructure, taking into account the many potentials, but also the prominent position that Egypt has in this region.
The meeting at the Federation of Egyptian Chambers of Commerce expressed mutual interest in linking the two
chambers of commerce
of the two countries in order to encourage trade and investment. The officials emphasized readiness to dynamize economic ties, maritime connectivity and valorize tourism potentials, especially given the successful implementation of the project by the Egyptian-Swiss consortium Orascom on the
Montenegrin coast
.

Crnogorski

English available languages