Crnogorski

English available languages
From 1 July until 31 December 2019, Finland holds the Presidency of the Council of the EU. This is the third Finland's EU presidency.
The priorities for Finland's Presidency of the European Union are to strengthen common values and the rule of law, to make the EU more competitive and socially inclusive, to promote action on climate change and to protect the security of its citizens.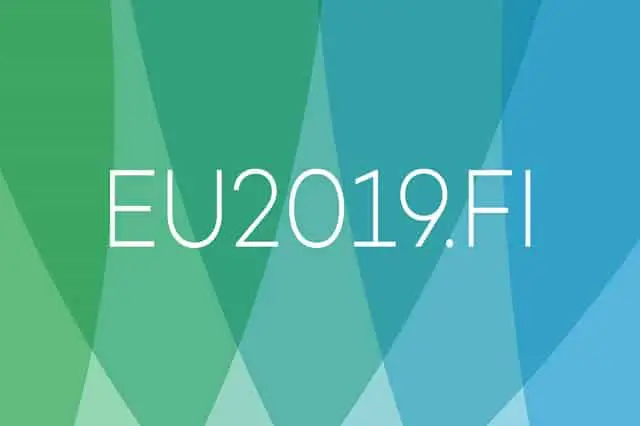 Finland Suomi 2019
"Sustainable Europe – Sustainable Future." 🇫🇮🇪🇺

Finland's Presidency of the @EUCouncil started this week.
Today and tomorrow, the College of Commissioners is meeting the Finnish government in Helsinki. #EU2019FI pic.twitter.com/jANY23HDNZ

— European Commission 🇪🇺 (@EU_Commission) 4. srpnja 2019.
🇫🇮 🇫🇮 🦌 ❄️ 🎅🏻 🇫🇮 🇫🇮 🦌 ❄️ 🎅🏻 🇫🇮 🇫🇮 🦌 ❄️ 🎅🏻 🇫🇮 🇫🇮 🦌 ❄️ 🎅🏻 🇫🇮 🇫🇮 🦌 ❄️ 🎅🏻 🇫🇮 🇫🇮 🦌 ❄️ 🎅🏻 🇫🇮 🇫🇮 🦌 ❄️ 🎅🏻 🇫🇮 🇫🇮 🦌 ❄️ 🎅🏻 🇫🇮 🇫🇮 🦌 ❄️ 🎅🏻 🇫🇮 🇫🇮 🦌 ❄️ 🎅🏻 🇫🇮 🇫🇮 🦌 ❄️ 🎅🏻 🇫🇮 🇫🇮 🦌 ❄️ 🎅🏻 🇫🇮 🇫🇮 🦌 ❄️ 🎅🏻 🇫🇮 🇫🇮 🦌 ❄️ 🎅🏻 🇫🇮 🇫🇮 🦌 ❄️ 🎅🏻 🇫🇮 🇫🇮 🦌 ❄️ 🎅🏻 🇫🇮 🇫🇮 🦌 ❄️ 🎅🏻 🇫🇮 🇫🇮 🦌 ❄️ 🎅🏻 🇫🇮 🇫🇮 🦌 ❄️ 🎅🏻 🇫🇮 🇫🇮 🦌 ❄️ 🎅🏻 🇫🇮 🇫🇮 🦌 ❄️ 🎅🏻 🇫🇮 🇫🇮 🦌 ❄️ 🎅🏻 🇫🇮 🇫🇮 🦌 ❄️ 🎅🏻 🇫🇮 🇫🇮 🦌 ❄️ 🎅🏻 🇫🇮 🇫🇮 🦌 ❄️ 🎅🏻 🇫🇮 🇫🇮 🦌 ❄️ 🎅🏻 🇫🇮 🇫🇮 🦌 ❄️ 🎅🏻 🇫🇮 🇫🇮 🦌 ❄️ 🎅🏻 🇫🇮 🇫🇮 🦌 ❄️ 🎅🏻 🇫🇮 🇫🇮 🦌 ❄️ 🎅🏻 🇫🇮 🇫🇮 🦌 ❄️ 🎅🏻 🇫🇮 🇫🇮 🦌 ❄️ 🎅🏻 🇫🇮 🇫🇮 🦌 ❄️ 🎅🏻 🇫🇮 🇫🇮 🦌 ❄️ 🎅🏻 🇫🇮 🇫🇮 🦌 ❄️ 🎅🏻 🇫🇮 🇫🇮 🦌 ❄️ 🎅🏻 🇫🇮 🇫🇮 🦌 ❄️ 🎅🏻 🇫🇮 🇫🇮 🦌 ❄️ 🎅🏻 🇫🇮 🇫🇮 🦌 ❄️ 🎅🏻 🇫🇮 🇫🇮 🦌 ❄️ 🎅🏻 🇫🇮 🇫🇮 🦌 ❄️ 🎅🏻 🇫🇮 🇫🇮 🦌 ❄️ 🎅🏻 🇫🇮 🇫🇮 🦌 ❄️ 🎅🏻 🇫🇮 🇫🇮 🦌 ❄️ 🎅🏻 🇫🇮 🇫🇮 🦌 ❄️ 🎅🏻 🇫🇮 🇫🇮 🦌 ❄️ 🎅🏻 🇫🇮 🇫🇮 🦌 ❄️ 🎅🏻

Crnogorski

English available languages