Crnogorski

English available languages
Do you want the Republic of Montenegro to be an independent state with a full international and legal personality?
– This was a referendum question imposed on May 21st 2006 in Montenegro, when Montenegrin Independence Referendum was held. The referendum succeeded – It was approved by 230,661 or 55.45% of voters, while 185,002 voters or 44.54% opposed Montenegrin independence. The threshold imposed by the EU was unorthodox 55%+1, which represented precedent in the World.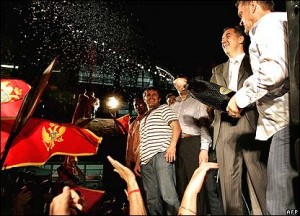 May 21st is a national holiday in Montenegro, commemorating the day when historical referendum occurred. Upon the publishing report on preliminary Referendum results, Montenegrin Prime Minister Milo Djukanovic said:
"Tonight, with the majority decision by the citizens of Montenegro, the independence of the country has been renewed!"
 On June 3rd same year, Montenegrin Parliament declared Independent Montenegro. On June 28th 2006, Montenegro become the youngest UN member state.

Crnogorski

English available languages