Crnogorski

English available languages
SPARK.me has announced 2nd confirmed speaker at the 2020 conference, which shall be held on May 30-31 in Tivat, Montenegro. It is Mitch Joel, marketing guru.
When brands like Google, Starbucks, Shopify and GE want to leverage technology to better connect with their consumers, they call Mitch Joel. He has been called "one of North America's leading visionaries" by Strategy Magazine. Mitch Joel is Founder of Six Pixels Group – an advisory, investing and content producing company that is focused on brands, commerce, community and what's next. Prior to Six Pixels Group, Mitch spent close to two decades building, running and selling his agency to WPP – one of the world's most valuable marketing and communications holding companies. He was most recently President of Mirum – a global marketing agency operating in 25 countries with close to 3,000 employees.
Mitch's first book, Six Pixels of Separation, named after his successful blog and podcast is a business bestseller. His second book, CTRL ALT Delete, was named one of the best business books of 2013 by Amazon. Mitch is the host of Six Pixels of Separation podcast, which has been running since 2006 with over 700 episodes. He is frequently called upon to be a subject matter expert for publications like Fast Company, Strategy, Forbes, and many other radio, television, digital and print outlets. He is a columnist and journalist for I Heart Radio, Harvard Business Review, and Inc. Magazine. Mitch was awarded the highly prestigious "Top 40 Under 40″.
Since 2005, he has given between 40-60 keynote presentations a year to small, medium and large organizations in both the B2B and B2C space all over the world.
Spark.me 2020 is set for May 30-31, 2020 in Porto Montenegro in Tivat. Located in the central part of the Bay of Kotor, Tivat is at the heart of Montenegro's coastal tourism industry. The vibrant town caters to a bustling nautical community, offering a wealth of restaurants, bars and numerous nearby coves, ideal for summer cruises of the Tivat Riviera. Previously a historic naval base, Porto Montenegro's reincarnated as the Mediterranean's leading luxury yacht homeport and marina village. The village attracts a vibrant year-round international crowd, with an events scene that extends to conferences, exhibitions, and cultural events.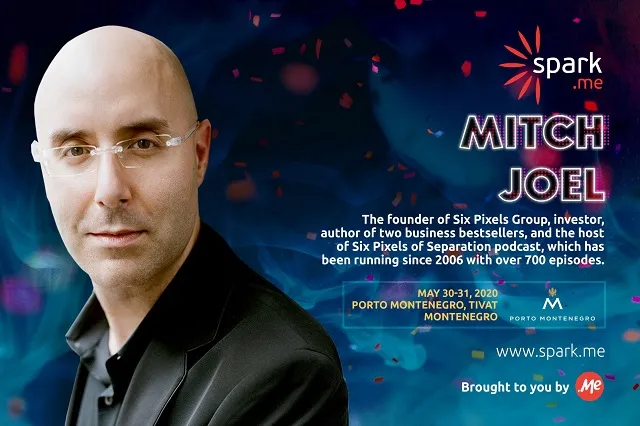 Mitch Joel – 2nd confirmed speaker at SPARK.me conference
Currently, he is an advisor and investor in many businesses and charitable organizations in the fields of artificial intelligence, smart audio/voice, martech, fintech and blockchain. He sits on the advisory board for Canada's Top 40 Under 40, Inovia Capital's Early Stage Fund, HubSpot's Inbound conference, and is a Trustee of the Westmount Public Library. Mitch is the former Chair of the Board of Directors for the Canadian Marketing Association and a past executive for the National Advertising Benevolent Society. He is also a former board member of Postmedia and the Interactive Advertising Bureau of Canada. In the past, he sat on the content committee for both the National Retail Federation and the Web Analytics Association.
Mitch is also the host of Groove – The No Treble Podcast, where he is slowly trying to build the largest oral history of electric bass players in the world.
For  more information of Spark.me 2020 conference, visit official website www.spark.me, Facebook page www.facebook.com/sparkdotme, Twitter www.twitter.com/sparkdotme or Instagram www.instagram.com/sparkdotme/.
🔥 We're starting the new workweek with the new #SparkMe 2020 keynote speaker. It's @mitchjoel, one of North America's leading marketing visionaries, the author of 2 business bestsellers & the host of the podcast with over 700 episodes. 🎙 See you in @portomonte on May 30-31! 🌴 pic.twitter.com/XTh4vfhXcD

— Spark.me (@SparkDotMe) February 24, 2020

Crnogorski

English available languages