Crnogorski

English available languages
Turkey has been a hub of ideas and cultures for centuries. It has been home to the Byzantium, the Ottoman empire, parts of the the silk road and some even say the wheel was invented here. Turkey and its people have been the home of incredible potential for time out of mind. More recently the reforms of Kemal Atatürk brought Turkey forward into the 20th century and opened our doors to renewed trade.
Making sure that they can see their business blossom and innovations come to fruition with Turkey. Services and products demonstrate the incredible potential Turkey is discovering every day – and how others can do the same with Turkey at their side, states the Branding DTP website.
The logo of the brand of Turkey looks like this:

and the slogan is: Discover the potentials.
Brand Idea
"We become masters of change as a result of the remarkable history our country has.With adaptability, empathy and a practical attitude, Turkish companies export to over 200 countries worldwide. Warm relations with customers and partners build reliable long-term relationships that hold firm in times of rapid change.", states the DTP website
Turkey visual identity is a vibrant expression of brand idea and slogan.The visual translation of our invitation to the world to discover the rich diversity our country can offer and the business potential it provides.
Colors
The colors used to express brand have been chosen because they represent Turkish heritage and culture. White as a background gives our communication space to unfold and activate.
Turquoise, gold and blue create highlights and guide the eye to the content we wish to convey.
The story of the Potential
"We Turks don't wait for change to happen to us. We create it – every day – in our lives and businesses. We push ourselves and our country forward, like we have done for the past 10,000 years.
We change the way we work and live so that we can change the way our clients and partners work and live for the better.
In the products we manufacture and the services we deliver, we're not afraid to question status-quo and be the first to do something new and do something better.
We truly are the change we wish to see in the world.
Our products and services are taking Turkish quality all over the world."
Discover The Potential is an invitation to our partners and customers. The branding help them make the most of the opportunities in front of them. By adding expertise, industrial capacity and reliable delivery to their business equation.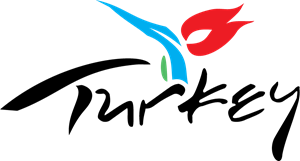 The slogan "Turkey – Discover the Potential"
This is the idea that's at the heart of everything we do together to represent Turkey inside and outside of our country.
Values which are shown are:
Long-term vision
Courage Entrepreneurship
Adaptability

Crnogorski

English available languages