Crnogorski

English available languages
Spark.me 2019, one of the most carefully curated business/Internet conferences in Southeast Europe, will be held on May 25-26 2019, in Porto Montenegro Auditorium in the city of Tivat – the heart of Montenegro's yachting industry.
Spark.me conference has been organized annually since 2013, by Domain.ME, a private company in charge of operating Montenegro's national Internet domain – .ME. Since then, it grew from a meeting point for a couple of dozens of tech enthusiasts and geeks to a must-visit tech and marketing event for the South-East Europe region and beyond. In 2018 alone, Spark.me attracted 580 attendees from 28 countries. Spark.me brings stories from the front lines of disruptive technological solutions, innovative business models, engaging branding strategies, and world-changing initiatives, and brings together business, technology and innovation leaders, marketers, startups, and geeks.
Anab Jain
Anab is a TED speaker, designer, filmmaker, and co-founder of Superflux, a critically acclaimed foresight, design, and technology innovation company.
Anab imagines and builds future worlds we can experience in the present moment. By creating new ways of seeing, being and acting, she inspires and challenges us to look critically at the decisions and choices we make today. Her work has won awards from Apple, UNESCO, ICSID and Innovate UK, and has been exhibited at MoMA New York, V&A Museum, Science Gallery Dublin, and National Museum of China amongst others.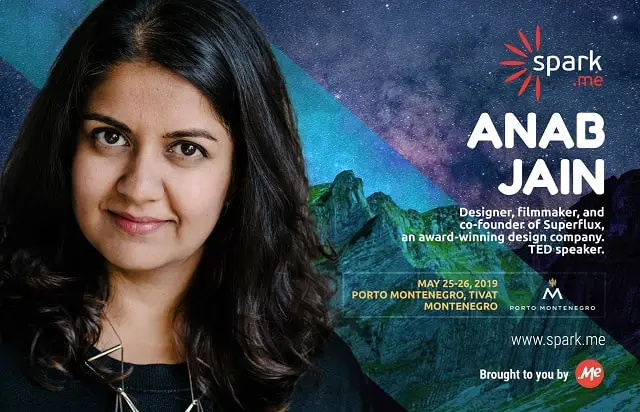 She is a co-founder of IoTAcademy, she curates the Long Now Foundation's London Meetup Group, and sits on the boards of Broadway Cinema and London School of Economics Media. Her TED 2017 talk, "Why we need to imagine different futures", has more than 1.6 million views online.
Jeremiah Owyang
Jeremiah is considered the definitive authority on corporate innovation programs and has worked with clients such as Adobe, Electrolux, Wells Fargo, Nestle, Cisco, Western Union, Visa, Colgate, Yum, and Pepsi, among others.
From corporate innovation, autonomous technology or modern wellbeing, Jeremiah views every aspect of emerging technologies through the lens of growth, opportunity and constantly shifting consumer behaviors and expectations. He is a founding partner at Kaleido Insights, a research advisory firm on how technology trends help large companies connect to their customers, and a founder and CEO of Catalyst Companies, an innovation council that serves as catalyst for change in large companies. Jeremiah was also a Founding Partner and Research Director of Altimeter Group, specializing in customer strategy and emerging technologies.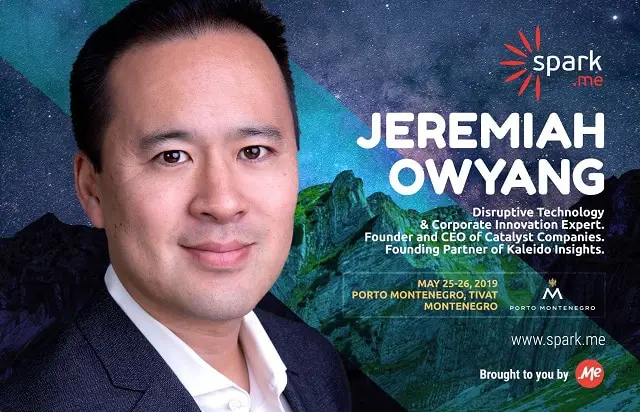 An acknowledged thought leader and widely read publisher, Jeremiah has appeared in such publications as The Wall Street Journal, The New York Times, USA Today, and Fast Company. His site, "Web Strategist" is one of the premier blogs on how corporations connect with their customers using Web technologies. Jeremiah was featured in the "Who's Who" in the Silicon Valley Business Journal, and his Twitter feed was named one of the top feeds by the Time. Through Catalyst Companies and Kaleido Insights, he also publishes numerous research reports, playbooks and frameworks to help businesses navigate change, improve customer experiences and identify trends before they happen.
A Call for Spark.me 2019 Startup Competition.
The winning team will have a unique opportunity to present its startup to leading investors and media at TechCrunch Disrupt San Francisco 2019 Startup Alley.
The mission of Spark.me Startup Competition is to bring together successful startups from all over Europe, help them grow, and share their ideas with the world. Previous winners of Spark.me Startup Competition are Top Digital Agency (2018), Couch Coach (2017), dryTools (2016), COPRIX media (2015), FishingBooker (2014), and TruckTrack (2013). All startups founded after September 1, 2017, and that have received less than $2.5 million in funding, are eligible to apply, regardless of where they are registered.
In order to participate, all interested teams need to fill out the application form at http://spark.me/startups/, after which they will go through the pre-selection round. Application deadline is April 15, 2019, 23:59:59 UTC. Ten startup teams that pass the pre-selection round will be announced on April 22 on the official conference website, and will get the opportunity to present at the Spark.me 2019 conference on May 25-26.
The winning team will get a once-in-a-lifetime opportunity to present and discuss its idea with the "tech elite" on October 2-4, 2019 in San Francisco – it will receive two round-trip tickets to San Francisco, hotel accommodation for three days (for two people), two tickets for the three-day TechCrunch Disrupt San Francisco 2019 conference, and their own Startup Alley booth. With over 10,000 attendees and 400+ media outlets, Disrupt SF is the place to find new customers, get media attention, and meet future investors. Startup Alley is the heart of Disrupt SF where over 1,200 pre-series A startups and sponsors across all verticals will be showcasing their latest tech products, platforms, and services.
How to apply for the Spark.me 2019 Conference?
Spark.me tickets are available at the conference official website, at www.spark.me. The full price of the ticket is 300€. However, all interested parties can take advantage of the Early Bird ticket sale and get their ticket for just 150€ by March 14. High school, undergraduate, postgraduate, and PhD students who are 27 years old or younger can get their ticket for a special price of 50€. Spark.me conference ticket includes: pass for all conference sessions (May 25-26), the start-up competition (May 25-26), buffet lunch on both conference days, all coffee breaks on both conference days, and a cocktail reception (the evening of May 25). Accommodation and transport are not included in the ticket price. Tickets can later be transferred to another person ('name change'), but cannot be refunded.
You can find out more about the conference at Spark.me's official website at www.spark.me, Facebook page www.facebook.com/sparkdotme, Twitter account www.twitter.com/sparkdotme, and Instagram account www.instagram.com/sparkdotme/.

Crnogorski

English available languages