Crnogorski

English available languages
On July 12th 2004, Montenegro readopted traditional state symbols of Montenegro: Coat-of-Arms and Flag from Petrović-Njegoš Dynasty period. Also, the anthem "Oj, svijetla majska zoro" was formally adopted.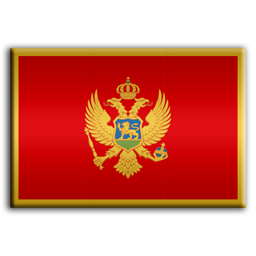 National symbols of Montenegro upon adoptation
State symbols of Montenegro are: the Flag, Coat-of-Arms, and the Anthem. In the following months, state symbols were standardized: on the Coat-of-Arms imperial crown was changed with royal, Coat-of-Arms took 2/3 width of the flag instead of previous 1/3, and border was placed instead of fringes. The original anthem lyrics were restored, and note script was also aligned.
(Earlier version of the state symbols, upon adoption in July 2004)
National Anthem of Montenegro Lyrics
Oj svijetla majska zoro
Oj svijetla majska zoro, majko naša Crna Goro,
Sinovi smo tvog stijenja i čuvari tvog poštenja.

Volimo vas, brda tvrda, i stravične vaše klance,
Koji nikad ne poznaše sramotnoga ropstva lance.

Dok lovćenskoj našoj misli naša sloga daje krila,
Biće gorda, biće slavna, domovina naša mila.

Rijeka će naših vala, uskačući u dva mora,
Glas nositi okeanu, da je vječna Crna Gora!

Crnogorski

English available languages