Crnogorski

English available languages
Written by Stephane Kasriel, CEO of Upwork
As CEO of freelancing website Upwork, I am witnessing firsthand not only the immense changes within our industry, but also the speed at which they are occurring. At the World Economic Forum, where I co-chair the Council on the Future of Work, Gender and Education, we have heated discussions on the future impact of artificial intelligence on work and our responsibilities to help manage the change. We see that as the workforce evolves, we must finally break free from the industrial-era habits of the past to ensure a more productive and equitable future.
Drawing on both on my experiences during 2017, and insightful books I've read, here are my four predictions for the future of work:
1. AI and robotics will create more jobs, not mass unemployment — as long as we responsibly guide innovation
Whether artificial intelligence will rise up and take over is the subject of growing debate. AI is "our biggest existential threat" to mankind, claims tech leader Elon Musk. But science fiction is full of stories about machines usurping humans. It's not a notion supported by history or data.
As I debated earlier this year, the impact of AI on the future does not spell doomsday for jobs. After all, machines don't create themselves. Rather, it's up to us to guide innovation responsibly. This means opening up new windows of opportunity, not eliminating them.
Elon Musk is not the first to subscribe to a fear of the "rise of the machines". Every generation before ours has feared massive technological change. Ultimately, automation has created more jobs—not fewer—and I don't see that changing anytime soon. That said, it's true that some jobs will go away, and it's easy to conclude which ones those will be. But it's much more difficult to know what jobs will be in demand in 30 years.
As such, I predict that there will not be a shortage of jobs in the future, but rather a shortage of skills to fill the jobs. In 2018, we must finally realize that it's no longer a matter of human versus machine, but rather human and machine working in tandem to solve the world's problems. It is humans who ultimately decide the next course of action.
2. Cities will compete against other cities in the war for top talent
When Amazon unveiled plans in October to invest over $5 billion in constructing a second HQ, it received more than 200 proposals from different cities. Metropoles across the US went to great lengths to capture the attention of Amazon CEO Jeff Bezos. They made makeshift Amazon headquarters out of cardboard boxes, they bought 1,000 random products on Amazon and wrote five-star reviews for each, and they lit up landmarks such as the Empire State Building in "Amazon orange," to name a few.
But one city that ignored the mania was San Jose, California. Its visionary Mayor Sam Liccardo pitched talent rather than tax breaks. In an op-ed for the Wall Street Journal, "Why I'm Not Bidding for Amazon's HQ", Mayor Liccardo explained that "big companies like Amazon want to be where tech talent is". I believe this too. Luring new corporate offices like those of Amazon to cities would only perpetuate an unsustainable cycle.
The talent war of the future will no longer be between companies, it will be between cities. As technology untethers society, and remote work becomes the norm, people will live in the cities of their choosing, rather than the ones that are nearest to where they work. The cities of their choosing will have a certain "vibe" by offering attractive living options in tech-friendly environments.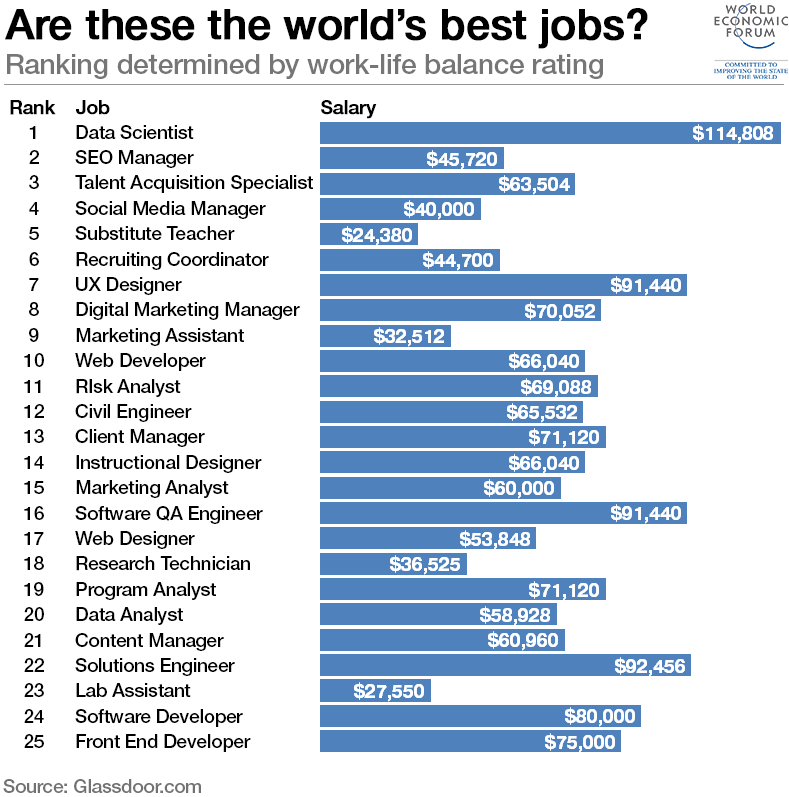 3. The majority of the US workforce will freelance by 2027
Today, more than 57 million workers – about 36% of the US workforce – freelances. Based on current workforce growth rates found in Freelancing in America: 2017, the majority of the US workforce will freelance by 2027. The youngest workforce generation is leading the way, with almost half of millennials freelancing already.
Simultaneously, there will be large-scale adoption of freelance talent by companies looking to fill talent gaps. In fact, according to a report by the Oxford Internet Institute, talent platform use among large enterprises increased 26% in 2017. Companies like Pfizer and Samsung are part of this rising breed of enterprises that have turned online to find freelancers.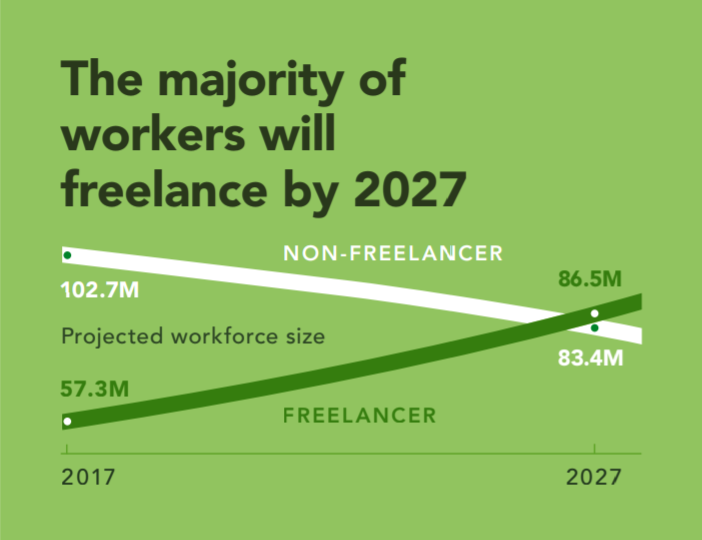 4. Education breaks out of the silo
Our education system is broken. The way we educate future generations no longer prepares them adequately for the skills and jobs of today. The idea that you study math and science and art in your youth as separate disciplines, and then work to solve real world problems in today's economy, does not add up. Preparing students for tomorrow's jobs requires breaking down the silos within education.
I'm optimistic that future education will become more flexible to suit the needs of a 21st century workforce. Project-based schools, many offered by technology experts, are cropping up. Examples include Holberton in San Francisco, founded by Sylvain Kalache and Julien Barbier; Wildflower School in Boston, founded by former Google exec Sep Kamvar; and Portfolio in New York, founded by Babur Habib and Doug Schachtel. These schools set the stage for what future education will look like. We will rethink the way talent is developed and deployed, and prepare students for a lifetime of learning better paced to the rapid evolution of skills.

Crnogorski

English available languages