English available languages
Small states face unique development challenges. Due to their small population (i.e., those with a population of 1.5 million or less) and economic base, these countries are particularly vulnerable to exogenous shocks, such as natural disasters and climate change. With limited economic opportunities and significant migration, they often face capacity constraints.
The Small States Forum (SSF) is an important platform for high-level dialogue on how the World Bank Group (WBG) can help to address small states' special development needs. The SSF comprises 50 members, including 42 countries classified as small states according to the World Bank definition and eight countries with relatively larger populations that share similar challenges.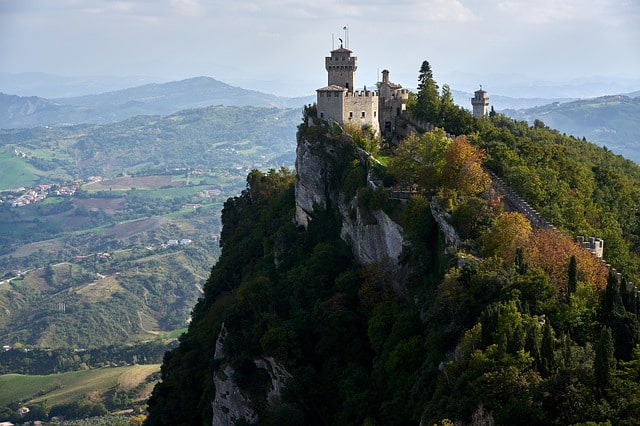 While sharing common challenges, the SSF is a very diverse group. There is high variation among members in terms of population size, income levels, geography and other features that result in a wide spectrum of development outcomes. A few examples are provided below:
Population – Many SSF members are micro states (i.e., with a population of less than 200,000 people). Population size ranges from 10,000 people in Tuvalu to 2.9 million people in Jamaica.
Geography – SSF countries are distributed across all regions and about two thirds are island states. The remaining one third includes five landlocked countries (Bhutan, Botswana, Lesotho, eSwatini (Swaziland) and San Marino).
Remoteness – Several small states, particularly islands, are among the most remote in terms of distance to the nearest international markets (e.g., Pacific islands).
Land area – A number of island states have a very small land area (e.g., Nauru has 20 square kilometers), while non-island states such as Namibia and Botswana have 4.5 and 3.1 times the area of all small island states combined, respectively.
Fragmentation and dispersion – Some countries are archipelagos dispersed over a broad ocean area (e.g., Kiribati has an area of 810 square kilometers distributed in 35 atolls/islands spread over 3.6 million square kilometers of ocean).
Vulnerability to natural disasters and climate change – Many small states are disproportionately vulnerable to a range of natural disasters, particularly those located in disaster-prone areas. About one third of small states are highly vulnerable to climate change, including rising sea- level and droughts.
Debt burden – Significant growth volatility, relatively slower growth and weak fiscal management have contributed to substantial debt accumulation in many small states. Debt levels for these countries are on average higher than for other developing countries, although there is considerable diversity across individual countries.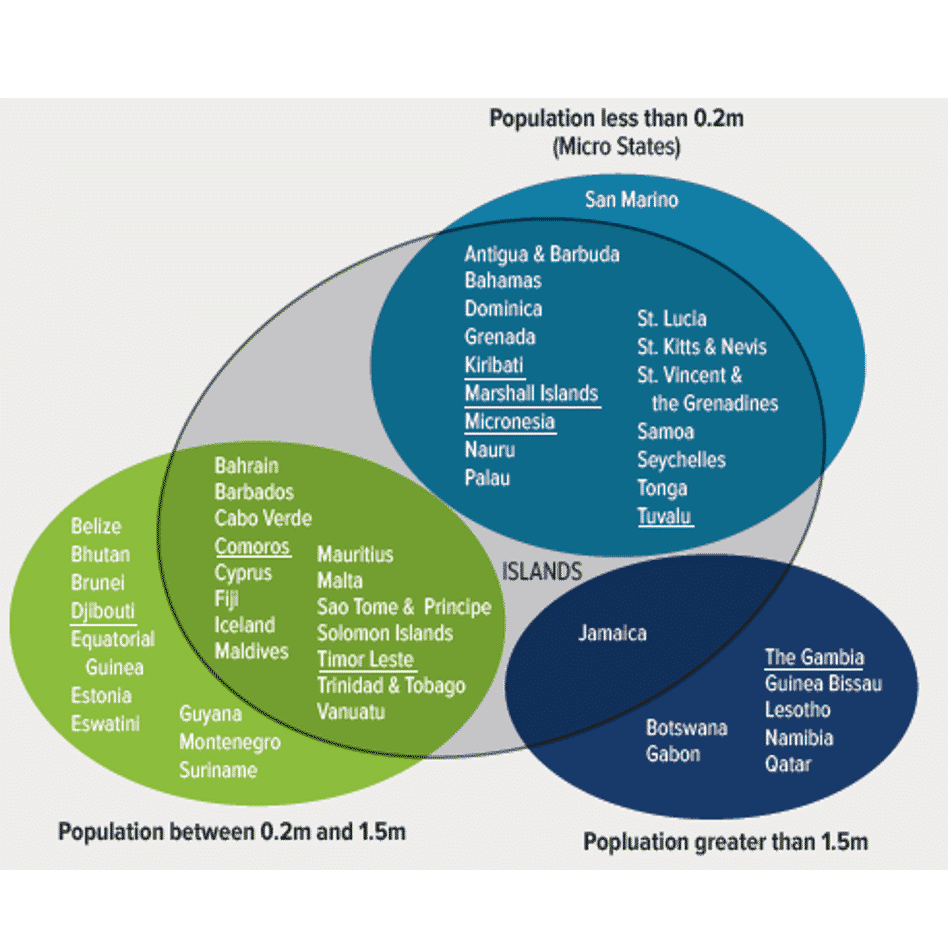 In light of these unique challenges, small states do not easily fit the standard development model where low-income and IDA-eligible countries become middle-income and IBRD states, and then transition to self-sufficiency and graduation. Instead, many small states find themselves caught in a gap between eligibility for concessional financing and self-sufficient capacity to take on sustainable financing at market interest rates. To meet small states' unique constraints, international development institutions need to develop innovative solutions tailored to address their interrelated development and financing issues. The World Bank is committed to doing just that.
The smallest states in the world – countries list
| | | | |
| --- | --- | --- | --- |
| Country | Population | Continent | Island nation? |
| Andorra * | Microstate | Europe | No |
| Antigua and Barbuda | Microstate | Americas | Yes |
| Bahamas | Microstate | Americas | Yes |
| Bahrain | 0.2-1.5 million | Asia | Yes |
| Barbados | 0.2-1.5 million | Americas | Yes |
| Belize | 0.2-1.5 million | Americas | No |
| Bhutan | 0.2-1.5 million | Asia | No |
| Botswana | Over 1.5 million | Africa | No |
| Cape Verde | 0.2-1.5 million | Africa | Yes |
| Comoros | 0.2-1.5 million | Africa | Yes |
| Cyprus | 0.2-1.5 million | Asia | Yes |
| Djibouti | 0.2-1.5 million | Africa | No |
| Dominica | Microstate | Americas | Yes |
| Equatorial Guinea | 0.2-1.5 million | Africa | No |
| Estonia | 0.2-1.5 million | Europe | No |
| Eswatini | 0.2-1.5 million | Africa | No |
| Fiji | 0.2-1.5 million | Oceania | Yes |
| Gabon | Over 1.5 million | Africa | No |
| Grenada | Microstate | Americas | Yes |
| Guinea Bissau | Over 1.5 million | Africa | No |
| Guyana | 0.2-1.5 million | Americas | No |
| Iceland | 0.2-1.5 million | Europe | Yes |
| Jamaica | Over 1.5 million | Americas | yes |
| Kiribati | Microstate | Oceania | Yes |
| Lesotho | Over 1.5 million | Africa | No |
| Lichtenstein * | Microstate | Europe | No |
| Luxembourg * | 0.2-1.5 million | Europe | No |
| Maldives | 0.2-1.5 million | Asia | Yes |
| Malta | 0.2-1.5 million | Europe | Yes |
| Marshal Islands | Microstate | Oceania | Yes |
| Mauritius | 0.2-1.5 million | Africa | Yes |
| Micronesia | Microstate | Oceania | Yes |
| Monaco * | Microstate | Europe | No |
| Montenegro | 0.2-1.5 million | Europe | No |
| Namibia | Over 1.5 million | Africa | No |
| Nauru | Microstate | Oceania | Yes |
| Palau | Microstate | Oceania | Yes |
| Qatar | Over 1.5 million | Asia | No |
| Samoa | Microstate | Oceania | Yes |
| San Marino | Microstate | Europe | No |
| Sao Tome and Principe | 0.2-1.5 million | Africa | Yes |
| Seychelles | Microstate | Africa | Yes |
| Solomon Islands | 0.2-1.5 million | Oceania | Yes |
| St. Kitts and Nevis | Microstate | Americas | Yes |
| St. Lucia | Microstate | Americas | Yes |
| St. Vincent and the Grenadines | Microstate | Americas | Yes |
| Suriname | 0.2-1.5 million | Americas | No |
| the Gambia | Over 1.5 million | Africa | No |
| Timor Leste | 0.2-1.5 million | Asia | Yes |
| Tonga | Microstate | Africa | Yes |
| Trinidad and Tobago | 0.2-1.5 million | Americas | Yes |
| Tuvalu | Microstate | Africa | Yes |
| Vanuatu | 0.2-1.5 million | Oceania | Yes |
| Vatican * | Microstate | Europe | No |
*- countries not on the World Bank Small States Forum list, but are generally considered as Microstates

English available languages