Crnogorski

English available languages
Tactics are more important than strategy and less important than vision. That appears to be the new set of rules in today's business world. Businesses cannot simply follow in the footsteps of their larger rivals; they must forge their own path. In the past, transnational champions would compete alongside one another at the top of the global market economy. In today's business world there is no second place, so following is not an option.
Last year, it became clear how much things had changed. For the first time, the five most valuable companies in the world were all tech companies – Apple, Alphabet, Microsoft, Amazon and Facebook. So what is it that makes tech giants so different?
Firstly, their market values capture a significantly larger chunk of the global economy. In 2007, only one tech business, Microsoft, was among the 10 biggest companies in the world. Ten years later, half of the top 10 are from the tech world. It is not that other companies are shrinking, but that tech firms are growing fast.
Businesses today need to move fast not just to gain advantage over their rivals but in a bid for survival. Technology companies are much quicker than those in other industries in gaining market share, controlling costs, and making decisions due to their insistence on empowering staff to create and innovate every day.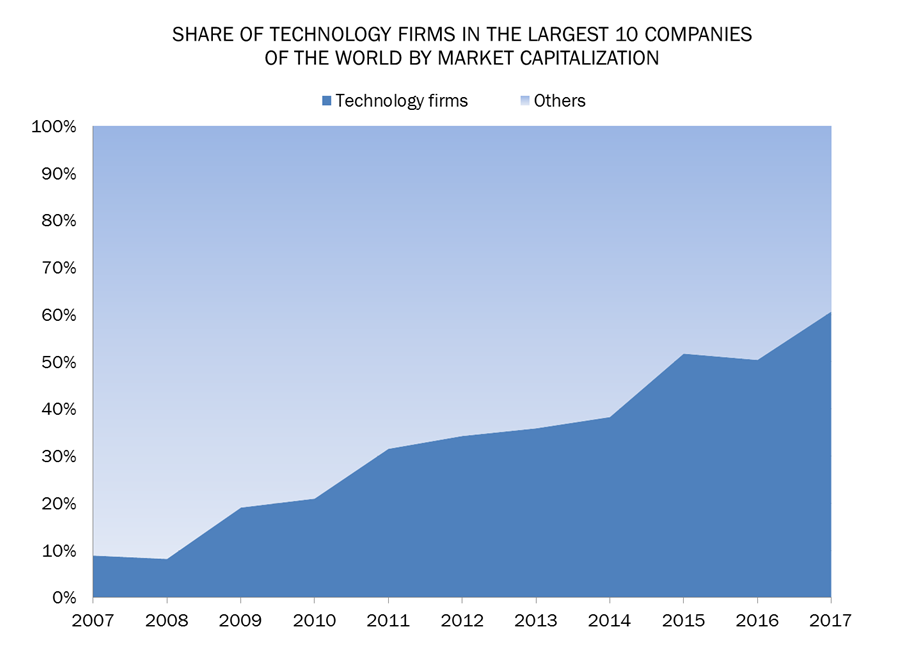 What's more, innovations today are quickly adopted so they soon become the norm. Time has sped up, opening up a wealth of opportunities for creative people. There is no need to wait a century to build a top five company, which was what it took a decade ago. You can do it in your lifetime. On average, these companies are just 28 years old. All these companies are established and managed by entrepreneurs, even if they are large public companies. In most cases, a considerable portion of their voting shares are held by their founders.
That is a dramatic change from 10 years ago, when the business world was dominated by energy and mining companies with shared ownership and decision-making; banks with bureaucratic governance rules; state-owned behemoths; or family firms in consumer-focused industries.Thus, government and public control of the world's largest companies has been replaced with private control by a few entrepreneurs, who would at least claim to be socially-responsible and philanthropic. The whole structure of wealth, governance and responsibility has been rebuilt. As the pace of change continues unabated, it is becoming even harder to predict what the next 10 years will bring.
Source: WEF

Crnogorski

English available languages