Crnogorski

English available languages
Between 1985 and 2019, 60 cities have held the title of European Capital of Culture – most recently Matera in Italy and Plovdiv in Bulgaria in 2019. Initiated in 1983, by Greek (then) Minister of Culture, Melina Mercouri, the concept took shape two years later as an inter-governmental initiative under the name of the 'European City of Culture'. The success of the event was such that in 1999, the Council of the EU transformed it into a Community action, and created a more transparent rotational system for the designation of the titleholder.
The selection procedure – last modified in 2014 – places particular focus on the monitoring of proposals, the enhanced European dimension of projects, improved competition between candidate cities, and the redefinition of the selection panel role.
As more and more cities enter the European Capitals of Culture race, substantial sums of money are being spent, including on the bidding process. While in the early years of the programme (1985‑1994) the average operating budget was around €25 million per city, this amount has more than doubled to reach some €60 million per city for the period 2007-2017.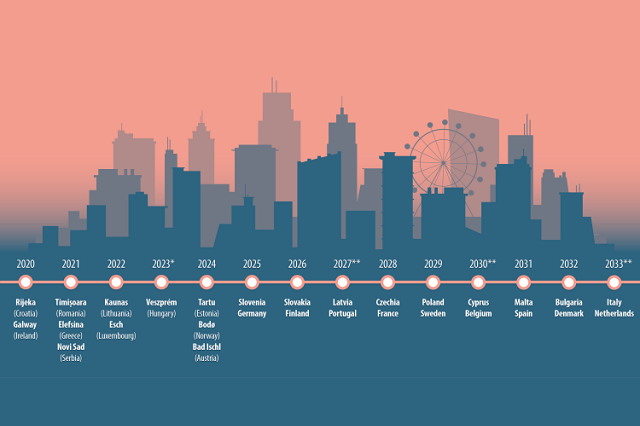 With rising budgets, there is also increased scrutiny of cities, national governments and the EU, as to the wider benefits in terms of the cultural development, social cohesion and city image that most bids promise. This, in turn, has led to more frequent and sophisticated monitoring and evaluation of the whole process, both by the European Commission and by the host cities themselves.
The symbolic celebration of European cultural identities is however closely tied to the economic success of the operation. According to experts, over time a number of conflicts and tensions have become apparent due to the multiple and sometimes contradictory objectives of the event, e.g. economic and cultural, to name just two. Additional criticism includes failure to enable local ownership, difficulty in overcoming social divides and exhaustion of local resources. Notwithstanding that, ex-post evaluations of the event show that in general it boosts economic growth and tourism, helps build a sense of community and contributes to urban regeneration.

Crnogorski

English available languages